2022 TESOL Advocacy & Policy Summit
TESOL returned to Capitol Hill with its 2022 Advocacy & Policy Summit, 20–22 June 2022. More than 50 English language professionals attended and engaged over the course of the 3 days, hearing from government officials, networking with colleagues, and advocating on Capitol Hill and through social media. This year's summit was sponsored by the American Federation of Teachers (AFT).
TESOL's annual summit equips professionals with the information and strategies needed to advocate for multilingual language learners (MLLs) and to strengthen the support systems for their success. This year's summit saw attendees learn from policy experts, engage with fellow TESOL professionals, and gain valuable insights for effective advocacy techniques and strategies.
Day 1: Opening Session

Dr. Ayanna Cooper set the tone for this year's summit through her opening session on creating and empowering learning communities for multilingual learners, inspiring attendees to reflect on the "why" and "how" of policy and the impact on students and teachers. A reception followed the opening session, with networking opportunities and time for conversation with Dr. Cooper.

Dr. Ayanna Cooper kicks off the 2022 TESOL Advocacy & Policy Summit.
Day 2: Policy and Advocacy Sessions
Following opening remarks from TESOL International Association Executive Director Amber Crowell Kelleher, MBA, CAE, who welcomed everyone to the return to in-person advocacy and set the tone for the importance of advocacy and collective action, the summit began Day 2 with a legislative update and overview of policy and appropriations priorities that attendees would take to the Hill. Jeff Hutcheson, TESOL's director of advocacy and public policy, led the discussion with attendees, diving deeper into the agenda items, and providing background for the legislative and budgetary process. A complete list of the legislative priorities for the summit can be found here.
The morning sessions were rounded out with presentations from the U.S. Department of Education's  Office of English Language Acquisition (OELA) and the Office of Career, Technical, and Adult Education (OCTAE), as well as the Migration Policy Institute (MPI). Dr. Supreet Anand, deputy director for OELA, shared strategies on enhancing advocacy with data, highlighting many of the rich data sources provided by the U.S. Department of Education. Domminick McParland, program specialist with OCTAE, gave a federal update on English learners (ELs) in adult education to help attendees enhance their own advocacy efforts. Julie Sugarman, senior policy analyst for Pre-K–12 education at MPI, challenged the audience in developing new paradigms for advocacy in policy that leverage asset-based frames in balancing compliance with flexibility and accountability.
After the luncheon sponsored by AFT, with greetings and conversation led by Lydia Breiseth, director of our partners and supporters at Colorín Colorado, participants were guided through a deep dive into the rights of ELs and immigrant students in our school systems. Attorney Roger C. Rosenthal, executive director of the Migrant Legal Action Program (MLAP), discussed key issues and empowered local advocacy for ELs and their families at the school district level, with supplemental information on what schools can and cannot require of immigrant students.
The afternoon sessions began with concurrent sessions on federal workforce bills and the role of transformational leadership to impact policy and advocacy. Caroline Treschitta, policy analyst with the National Skills Coalition, provided an overview the most relevant federal adult education policies impacting ELs, with detailed discussions into the bills moving in Congress and what is likely to gain traction in the coming months. Dr. Debra Suarez, program manager for strategic initiatives with the U.S. Department of Education and former TESOL board member, led an engaging session on transformational leadership and how to nurture skills that develop one's leadership identity and space of influence. Session attendees gained valuable resources for self-guided study to further their impact as TESOL leaders.
Ending Day 2, attendees were treated to lively discussion by the legislative director for Representative Jim Langevin (D-RI-02), Nick Pennington. Representative Langevin is a strong supporter of MLLs, having sponsored and cosponsored many bills that enhance and impact our profession and students. Currently, Representative Langevin is sponsor to the Reaching English Learners Act and the Supporting Providers of English Language Learners Act. Mr. Pennington fleshed out these bills and the importance of hearing from the field and constituents to impact legislation. He then gave an overview of the legislative process, with focus on the appropriations in which Congress is currently engaged.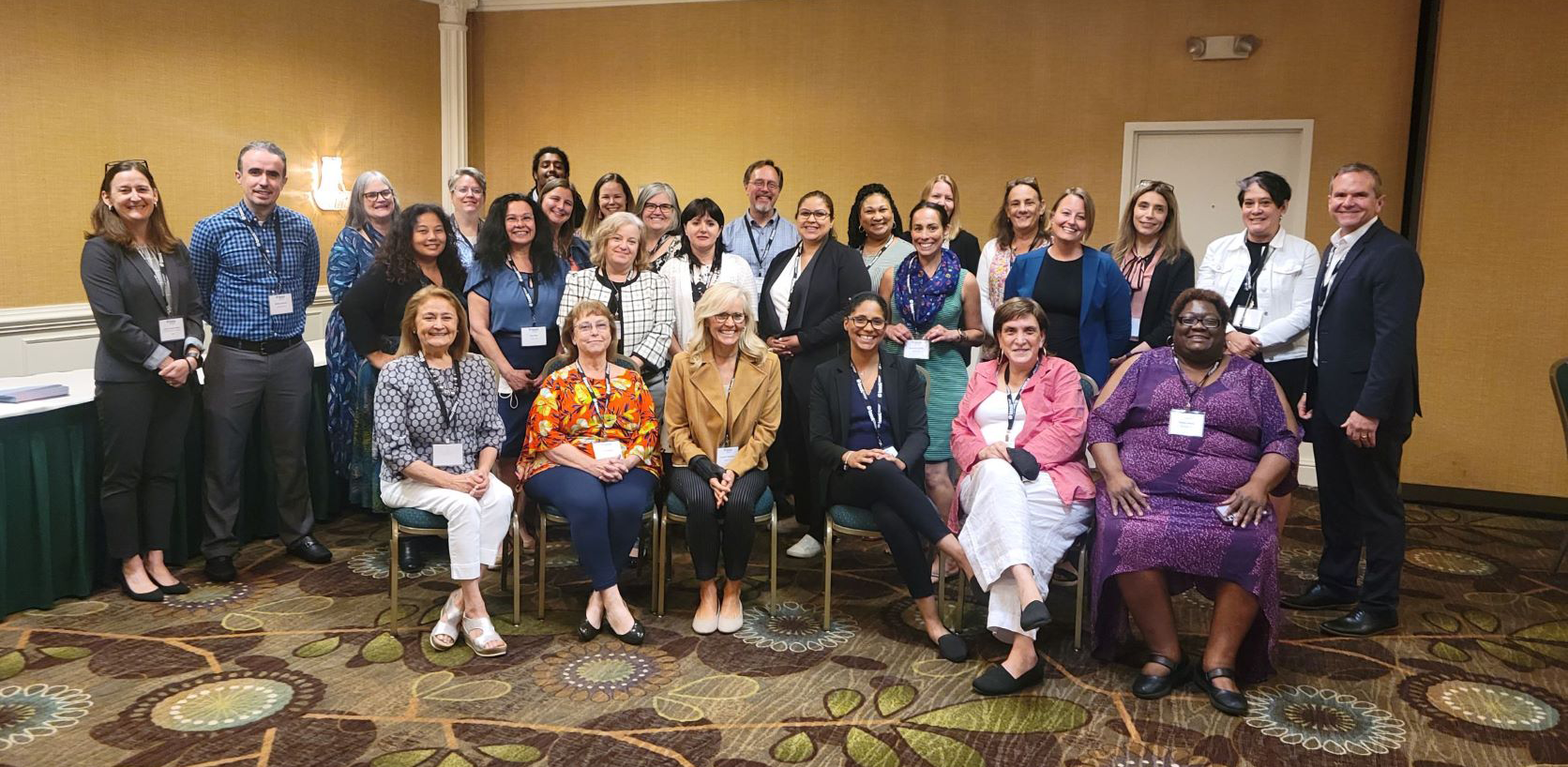 The day concluded with two empowering sessions. The first focused on grassroots efforts of our members, with an overview by Heather Linville of TESOL's advocacy zip guide and perspectives on advocacy day from Susan Morris-Rutledge, a dedicated advocate and veteran of TESOL's summit. In the final session, Jon Bernstein, director of government relations at Joint National Commission on Languages National Council for Languages and International Studies, provided final inspiration to attendees for focused and foundational engagement with their representatives.
Day 3: Advocacy in Action

On Wednesday, summit participants readied for a full day of engagement and advocacy by descending on Capitol Hill and navigating through the varied protocols for access, postpandemic. With nearly a hundred visits scheduled, TESOL advocates met in offices, in parks, in lobbies, and even in coffee houses with their representatives, senators, and their staff—all to bring the voice of our profession and our students to be heard and valued and to impact U.S. federal policy.

The summit concluded with a gathering of attendees for dinner and debrief, where we shared our stories, encouraged each other, and resolved to make each day of the year a day for advocacy.

For those unable to attend the summit in-person, TESOL led a day of action online through social media and the TESOL Advocacy Action Center.

 

Carolina TESOL meeting with Representative Nancy Mace (R-SC-01).