4 AI Chrome Plugins to Boost English Language Learning
As English language teachers, we constantly search for innovative tools and techniques to assist our multilingual learners of English (MLEs) in their language acquisition journey. The conversations around using AI are only accelerating, so today we're going to look at some ChatGPT Chrome plugins that you can introduce to your students to support their growth. These plugins leverage the power of AI to enhance speaking, writing, and comprehension skills, providing valuable support to both teachers and students.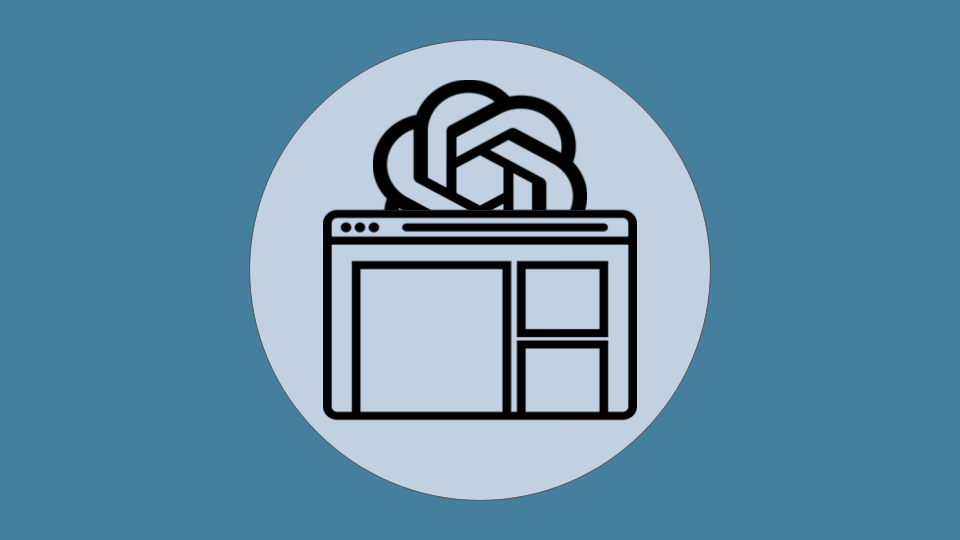 A note on plagiarism and academic integrity: We are now living in a world where students have access to all of these tools, and they will use them with or without our permission. Without a doubt, some of these tools can be used to breeze through assignments and skip the language learning process altogether. There are many conversations, webinars, and articles on how people are starting to deal with these issues. The resources here are presented as ways to help students who are serious about their language acquisition. For those who are concerned about their students who are less serious, I leave it to you to decide what you'd like to share with them.
1. Speak to ChatGPT
The Speak to ChatGPT plugin uses ChatGPT and Voice-to-Text/Text-to-Voice technology to help MLEs improve their speaking skills. By simply speaking into the microphone, Speak to ChatGPT turns what has only been for text into an opportunity to speak and listen. The app itself simply records what the speaker says, converts it to text, and uploads it to ChatGPT. Then it reads out ChatGPT's response in any of a number of voices (So far, my favorite is the awkwardly named "Google US English," but you can experiment as there are many voices to choose from).
Verbally chatting with GPT can start off very simple, but as with all AI, the magic is in the prompting. If they ask it to, students can receive instant feedback and corrections on things like their grammar and vocabulary usage. Instead of having to wait until the next time they meet another English speaker, Speak to ChatGPT offers a safe and supportive environment for MLEs to practice conversational skills, which can also boost their confidence and fluency.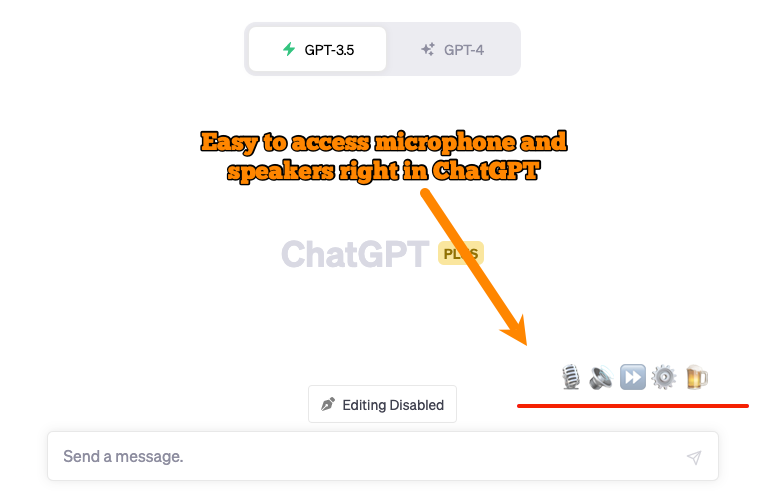 2. EditGPT
EditGPT is a powerful grammar and style checker that empowers MLEs to refine their written English, similar to Grammarly. Students can type in their text, starting with the prompt "Proofread this, but only fix grammar," and the plugin automatically scans for grammar errors, highlighting specific areas where it suggests changes. This can offer highly constructive feedback, highlighting potential issues and providing suggestions to enhance clarity and conciseness.
One possible way to use this in class is to have students show you the score and work through the changes. A meta-level follow up assignment could be for students to screenshot the feedback and then to describe two or three lessons learned from the feedback EditGPT gave.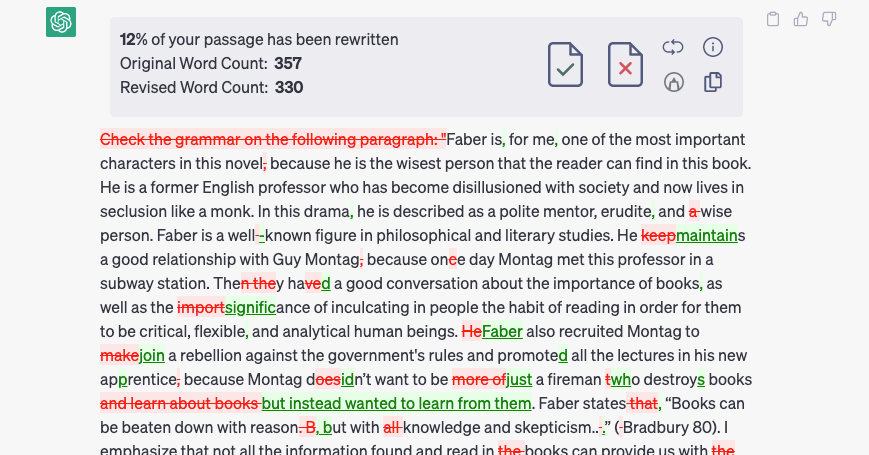 (Image comment: The red strikethroughs show where EditGPT suggests deletions, and green shows where it suggests adding or replacing information. Teachers can also use the percentage guide to help students determine whether they're improving over the course of the semester)
3. UseChatGPT
UseChatGPT is an all-purpose AI plugin that allows MLEs to engage with what is essentially a virtual AI tutor. Students can ask questions, seek clarification, practice improving their writing, check the tone of an article, and much more.
One of the nice things about UseChatGPT is that it lets the user choose the AI they want to work with. If a student doesn't have access to ChatGPT, they can switch it to get information from other programs like Bard or Bing. Though it can do a lot of fun things with writing, I like that it can be used to help students read and understand any page they're reading on the internet. A convenient sidebar pops out and students can choose to highlight text they want to work with, or they can just start writing and asking questions directly in the chat box. Keeping everything easy to access right where students are working encourages them to seek answers for themselves and get support as they read rather than giving up because they don't understand the language. There are a lot of other features built in, so play around to see what else your students might benefit from.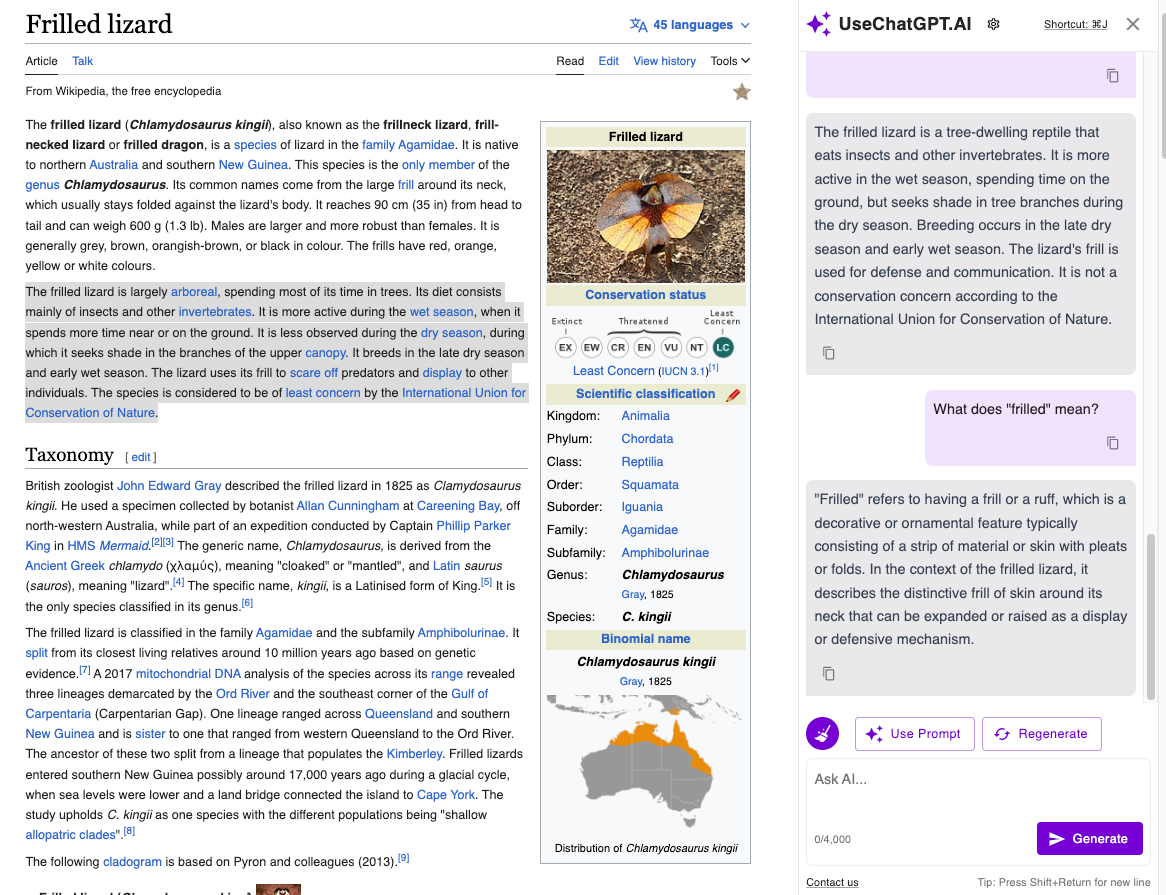 (Image comment: On the sidebar on the right, see that it made an effort to simplify the text I highlighted, but I was also able to follow up immediately asking it to clarify vocabulary. This reduces the possibility that students will get distracted by leaving the site to try to get more information elsewhere.)
4. WiseOne
WiseOne is useful for the more advanced language learner. In particular, I recommend it if your students are starting to prepare for an academic life in college and university. WiseOne is an AI-powered assistant that can help MLEs understand resources and information presented to them online. Yes, it summarizes like many of the AI programs out there do, but my favorite feature in WiseOne is the ability to cross-check information. When a student hovers over a vertical blue bar, it compares the information across the web, allowing them to determine whether the information is contested or well established. There are a number of other features, but one more that I like is the "Suggestions" option that shares more relevant resources for the reader to find out more about their topic.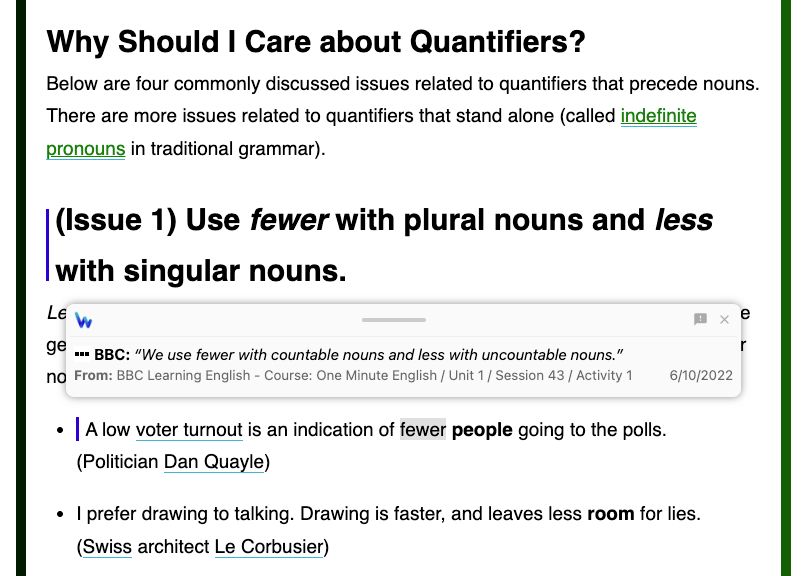 (Image comment: Here I tried to use WiseOne on GrammarMonster.com rather than a more advanced research-based site. Note that the pop-up window finds that the BBC Learning English page gives similar information, allowing a student to feel confident that they are on the right track.)
---
Every day, more and more tools like these are released, so keep an eye out for more tools that you can share with your students to help them make strides in their learning. By taking advantage of  the power of artificial intelligence, these types of plugins offer MLEs the opportunity to practice English in a dynamic and interactive manner, promoting self-confidence and proficiency. Be brave in your explorations and see what your students respond to – you might just be surprised at the leaps they take in their skills!