Identifying TESOL's Future Research Priorities
This blog is part of the TESOL Research Professional Council (RPC) Blog series.
The TESOL International Association's professional councils support the association's objectives with professional knowledge and advice. One of seven professional councils, the Research Professional Council (RPC) focuses on research by identifying priorities, promoting dialogues, fostering inquiry, and building expertise.
As part of this role, the RPC hosts the TESOL Research Agenda Fair each year during the TESOL International Convention. In 2021, the Research Agenda Fair was held online, and attendees had the opportunity to explore what the field's research priorities should be over the next few years, with particular attention to bringing together research and classroom practice.
To facilitate the identification of research priorities, attendees worked together in four breakout rooms to reflect on topics in the field of TESOL that would benefit from more research. Two major themes emerged.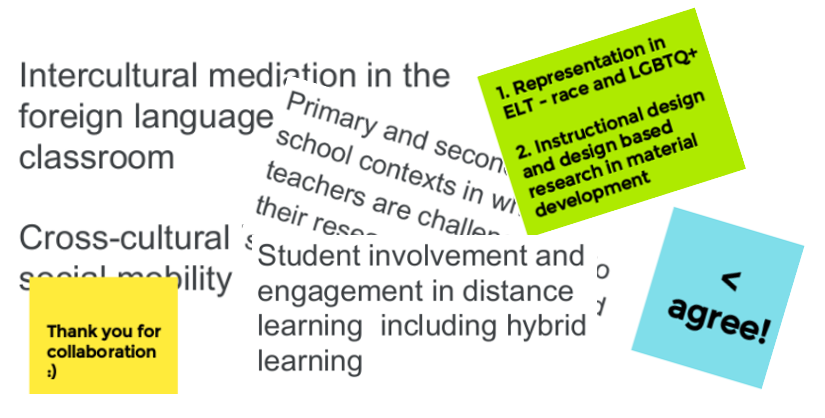 Teaching and Learning During and After COVID-19
English language teaching and learning during and after the COVID-19 pandemic emerged as a major theme. In particular, there was a desire for more research related to online learning, blended or hybrid learning, and the ideal balance between web-based and face-to-face classrooms. For example, with regard to balance, participants valued research connected to understanding which language strands (reading, writing, listening, speaking) are most effectively taught online or in the classroom. It was further felt that knowing more about the extent to which students are engaged during online or hybrid classes would be useful.
Also related to teaching and learning was a need for more research related to instructional design, materials development, and student outcomes after their studies. Teacher well-being was another important research topic that was raised, with a focus on emotional support for teachers and the challenges of balancing teaching with government-mandated standards.
Sociocultural Factors in TESOL
The second major theme to emerge was sociocultural factors in TESOL. For example, there was a desire for more studies in the areas of intercultural awareness and cross-cultural understanding in the classroom. Within areas of intercultural and cross-cultural awareness, understanding learners' contextualized identities and exploring the representation of LGBTQ+ and racialized identities in the field of TESOL were called for. English language teaching as it relates to the global South was another research area that was pointed out, with special attention to whether learners have equitable access to resources.
Finally, there was a sense that more research is needed to understand what might be missing from teacher education programs and what teachers may or may not know on leaving these programs. It was hypothesized that preservice teachers might need more support related to teaching with multiracial and anticolonial perspectives.
Recommendations
Moving forward, the RPC encourages teacher-researchers and scholar-practitioners in the field of TESOL to consider these topics as they look toward their next research project. Better understanding teaching and learning during and after a pandemic and how the teaching and learning process is impacted by a range of sociocultural factors will contribute to building the knowledge base of TESOL and further TESOL's mission to advance the expertise of professionals in this field while also advancing equity and inclusion. At the 2022 TESOL Research Agenda Fair, the RPC will present new research to address several of the topics that were identified as priorities.