Reading El Greco of Toledo and Home
Greetings from the University of North Carolina at Charlotte! It's September and National Hispanic Heritage Month here in the USA. Starting from 15 September through 15 October, it's a time to celebrate the histories, cultures, and contributions of U.S. citizens whose ancestors came from the Spanish-speaking world.
For this month's post, I'd like to write about a painter of the Spanish Renaissance, El Greco, and reading "home."
In the summer of 1982, the National Gallery of Art in Washington, DC, organized an exhibit, El Greco of Toledo. My dad and I went together to see the show in the museum's East Building concourse that I. M. Pei designed.
I was 13 years old and, even now, I can still recall bits and pieces of the exhibit — towering saints with elongated bodies floating across angry clouds and the city of Toledo, Spain.
"El Greco" is Spanish for "The Greek." It's the nickname that we still know Domḗnikos Theotokópoulos by. Born in 1541 in Candia (modern Crete), El Greco settled in Toledo in 1577, where he painted until his death some 37 years later. The city became his home, and the Spanish-speaking world has long claimed him as one of its greatest sons (even though the Greeks might say he's theirs by birthright).
The El Greco exhibit only lasted two months, but there's a room in the museum where you can find a half dozen of his paintings. Whenever I'm in Virginia, my dad and I go back to the National Gallery to revisit the paintings we first saw together when I was just a boy.
One of the things that stands out in El Greco is the omnipresence of Toledo and the Tagus River — even though, with few exceptions, Toledo isn't really supposed to be there — at least historically.
For example, Saint Martin and the Beggar is El Greco's take on the life of a 4th-century cavalryman stationed with the Roman army in Gaul (modern-day France). The story goes like this: Martin, on horseback and in full armor, crosses paths with a naked beggar. The Roman soldier takes his shining saber and slashes his magnificent green velvet cape in half—giving it to the stranger in an act of charity that we still remember Martin for. In the El Greco version, you can see the city of Toledo just behind the two men.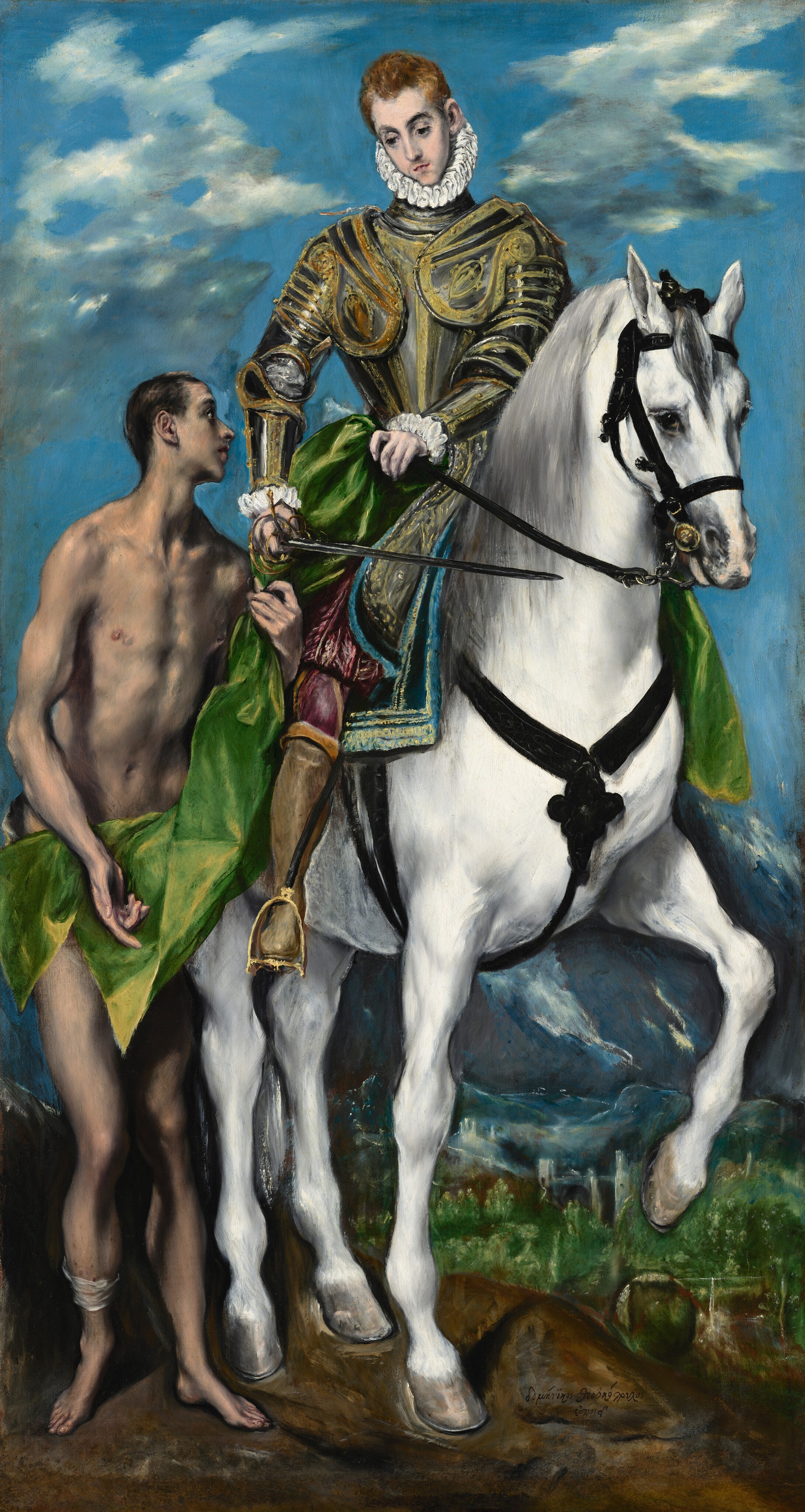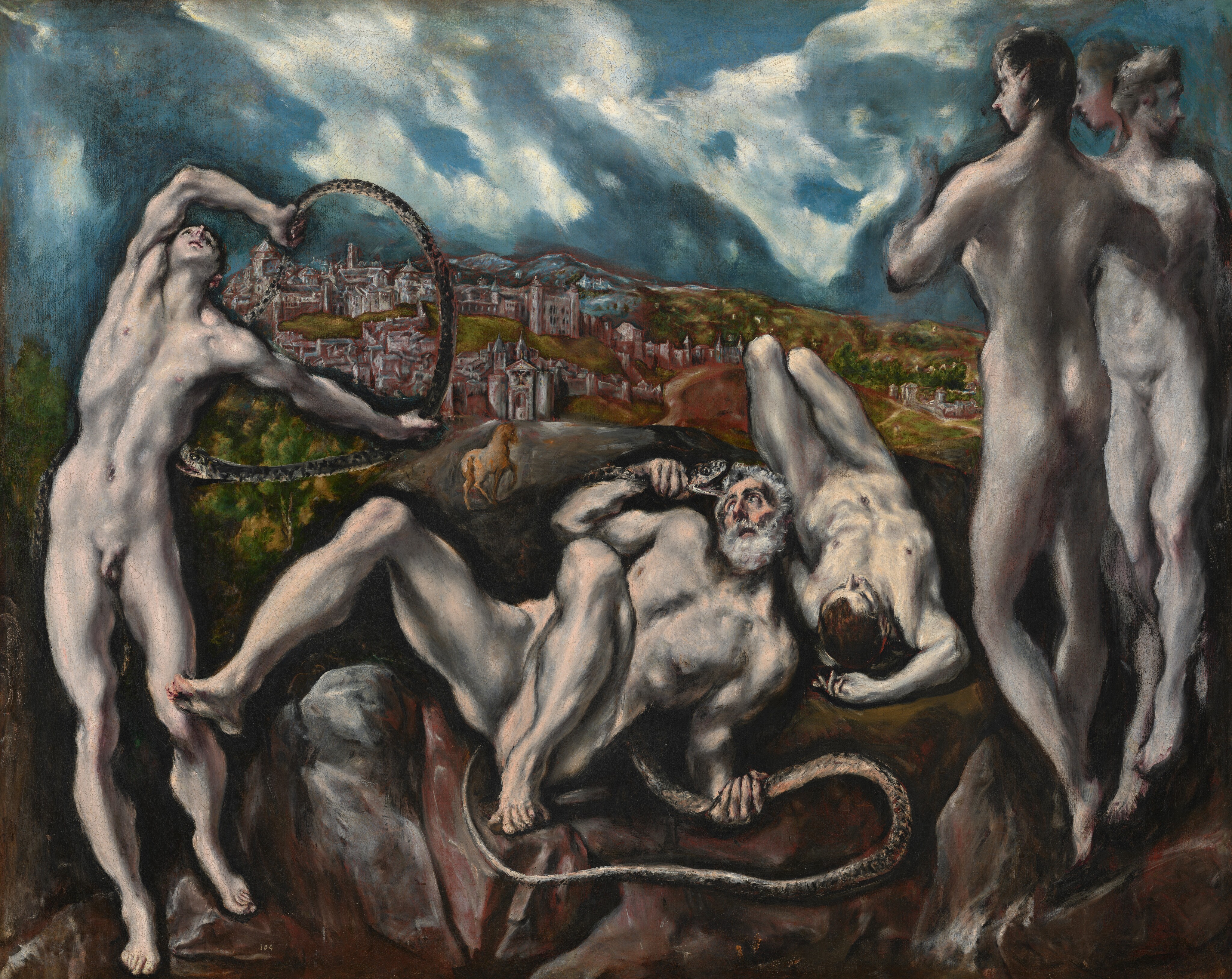 There's another painting in the same room—a scene from Virgil's Aeneid. The Trojan priest, Laocoön, warns his countrymen about the huge wooden horse the departing Greek army left outside the gates of the city as an offering to the gods:
"Equō nē crēdite, Teucrī / Quidquid id est, timeō Danaōs et dōna ferentēs"
[Do not trust the Horse, Trojans / Whatever it is, I fear the Greeks, even when bearing gifts.]
To silence Laocoön, a goddess sends a serpent to swallow him and his two sons.
Night falls and Laocoön's warning comes true. A hidden army emerges from the belly of the wooden horse. Troy burns. But in El Greco's version, it's Toledo that's on fire.
So why does Toledo keep reappearing in these paintings that aren't really supposed to be about Toledo?
The International Literacy Association explains, "For literacy teaching and learning to be culturally relevant and responsive, educators must begin by aligning curriculum and instruction with students' backgrounds, life experiences, and cultures."
The unfortunate reality is that in most K–12 contexts, the curriculum doesn't mirror who we are or who our students are. So part of reading and teaching reading is about giving readers license to connect to texts, remix them, and make them their own.
That's what I think El Greco was doing in Saint Martin and the Beggar and Laocoön. He took ancient stories and reinserted them into his 15th-century life and the city he loved. And maybe that's one of the reasons why my dad and I keep going back to the El Grecos at the National Gallery of Art after all these years — because they feel like that to us, too — like home.
I'll end with a couple of questions to think about as we celebrate National Hispanic Heritage Month and a new school year:
Where is your "Toledo?" 
How do you bring "home" into the texts that you and your students read?
Note: The National Gallery of Art and all the Smithsonian Museums on the National Mall are open every day of the year except Christmas and New Year's. Admission is free. If you never make it to Washington, DC, you can also search the National Gallery of Art's entire collection virtually by artist's last name, keywords in the title, keywords in object information, credit line, provenance name, accession number, exhibition history, and/or catalogue raisonné.